Thurston Moore
[Sonic Youth]

"Magnolia Thunderpussy slip it in your head in classic So Cal fallout fashion. They shoulda been massive."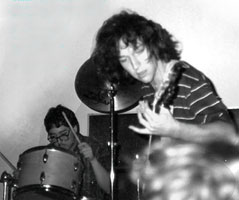 Flea


[Red Hot Chili Peppers]



"Magnolia Thunderpussy shreds. The playing is real and free and rocketed into the astral plane propelled by the purest motivation. I am all for it."




Blake Schwarzenbach




[Jawbreaker/ Jets to Brazil]





"I'm glad the rock is finally seeing the light of day and must say, you were the first real band I knew. I think this provided an invaluable sense of possibility for all of us who saw and supported you, eliminating the imaginary line between the mythic band people and the feeble plebes who watched from the floor. It wasn't that we thought we could do what you did, because it looked incredibly hard and you guys had mad skills. But you were human beings and, in the best spirit of punk rock, we (or I) thought why not me too? So, thanks for that and all the music."





Adam Pfahler
[Jawbreaker/ Whysall Lane]


"MTP defied categorization. From one song to the next we didn't know if we should dance, collapse to the ground or throw ourselves through a windows. So we did it all happily and took inventory of our cuts and bruises the next day."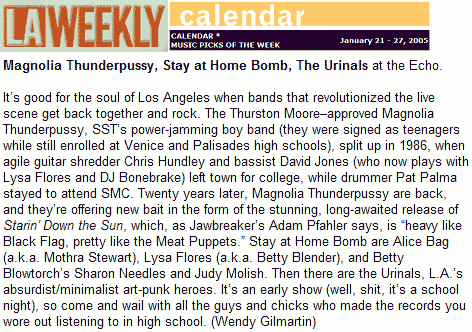 Danny Weizmann
aka
Shredder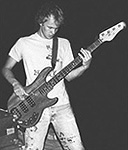 [Honkey/ Double D Nose/ teen punk writer for the LA Weekley,
Flipside and Rag in Chains/ Co-author of Hardcore California/
Editor of DeeDee Ramone's autobiography Labotomy]
"Magnolia Thunderpussy needs to be listened to while going 95 mph down Chautaqua. When you get to PCH, don't go left or right -- drive straight into the ocean!"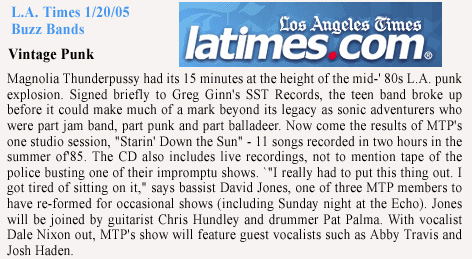 Mike Randle
[Bad Press/ Baby Lemonade/ Love]
"The music that invaded my head was unlike anything I was used to. It was melodic, cool, exciting but mostly it was wonderful and I liken it to discovering something precious."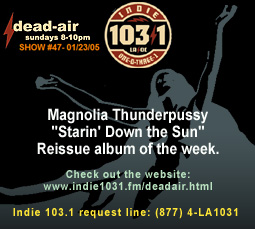 [Treacherous Jaywalkers/ Uprising]
"I only had the privilege of seeing Magnolia perform a handful of times, but every time, without fail, I was awed. Here was a band that grabbed you by the throat, locked you down and didn't let go."